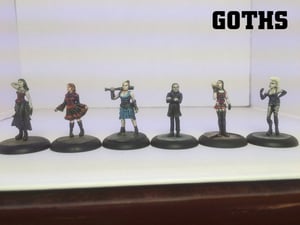 £

20.00
Slow X Death Games were recently in the UK for Salute to promote Wild in the Streets, but don't worry if you missed them, as we we have their leftover stock left right here in the store.
An offshoot of the punk scene, Goths are part of a varied subculture that ranges from death rockers to industrial to darkwave to metal and more. In Wild In the Streets, Goths travel in large groups and prefer to fight two or three on one and appreciate the value retreating to regroup.
The starter includes Dave, two death rockers and three goths with the appropriate stat cards.
Models supplied unpainted. This will ship separately from other items ordered at the same time.
To make postage fairer, there are three options:
If you live in the UK, select "UK".
If you live in Europe, select "Germany".
If you live anywhere else, select "Everywhere else".