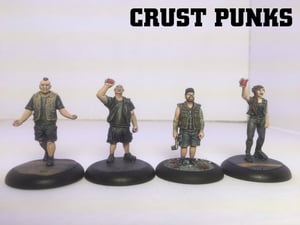 £

15.00
Slow X Death Games were recently in the UK for Salute to promote Wild in the Streets, but don't worry if you missed them, as we we have their leftover stock left right here in the store.
Crusties fill the space between hardcore and metal. They love the dirty sound of crust punk bands with it's metallic influences but without what they think are the ridiculous parts of metal. In Wild In The Streets, and often in real life, they are loud, drunk and disorderly. Fists, empty 40s and studded denim jackets will fly!
This starter includes Sid, Jorge, two drunk punks and their stat cards.
Models supplied unpainted. This will ship separately from other items ordered at the same time.
To make postage fairer, there are three options:
If you live in the UK, select "UK".
If you live in Europe, select "Germany".
If you live anywhere else, select "Everywhere else".