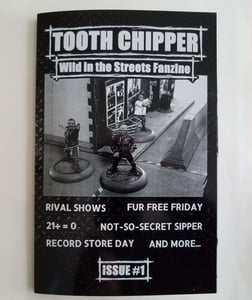 £

4.00
Slow X Death Games were recently in the UK for Salute to promote Wild in the Streets, but don't worry if you missed them, as we we have their leftover stock left right here in the store.
Tooth Chipper Fanzine is a gaming supplement for Wild in the Streets, the miniature game of subcultural warfare. You will need the free rules, some miniature Wild in the Streets crews, their respective sets of cards, and some 10-sided dice to use this sick as hell game product.
This issue contains five new scenarios:
-Record Store Day by Chris Kohler
-Fur Free Friday by Nick Baran
-Not-So-Secret Sipper by Ash Barker
-21+ = 0 by Nick Baran
- Rival Shows by Nick Baran
This fanzine is also packed with references for anyone who wants to start a deep dive into the music subcultures that are the basis for the game, in lieu of the "background" that is found in most game publications.